Seit 28 Jahren bin ich ein Teil der Mission KwaSizabantu. Ich wohne in Europa in der Schweiz.
Durch die Gnade Gottes wurde ich in der Erweckung in KwaSizabantu Südafrika, durch die Predigt von Missionar Erlo Stegen sehr angesprochen. Ich erkannte meine Bösartigkeit und Sünde und habe Vergebung und Befreiung von Jesus Christus empfangen.
Auch vom Hochmut hat mich Gott befreit, so dass ich nicht mehr auf andere Menschen herunterschaue.
Ich erkannte, dass wenn Gott mir nicht täglich Gnade gibt, ich 10 mal schlimmer enden werde, als ich zuvor gewesen bin.
Mein größter Wunsch ist es, nah beim Herrn zu bleiben, Ihm von ganzem Herzen zu dienen und nie zu vergessen, was ER mir Gutes getan hat.
Wie würde ich mich selber strafen, wenn ich diese Gnade vergessen und verwerfen würde.
Ich möchte dieses Leben auch leben, dass in der Bibel verkündet wird und vorbildlich von Missionar Erlo Stegen und seinen Mitarbeiter gelebt wird. Sehr oft habe ich es erlebt, dass wenn ich auch zu Unzeiten eine Seelennot hatte, Missionar Erlo Stegen zu erreichen war, Zeit hatte und seine letzten Kräfte hingab, um mir mit Gebet zu beizustehen. Dadurch erlebte ich Hilfe und Veränderung in meinem Leben.
Erlo Stegen und auch seine Mittarbeiter haben mich in den letzten Jahrzehnten uneigennützig unterstützt, entsprechend dem Namen KwaSizabantu "der Ort an dem Menschen geholfen wird".
Dafür bin ich ihnen von Herzen dankbar.
Fridolin Tschudi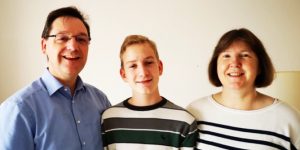 I have been part of the KwaSizabantu Mission for 28 years. I live in Europe in Switzerland.
It was through the grace of God, that I was touched very much by a sermon of Rev. Erlo Stegen in the revival at KwaSizabantu, South Africa. I recognised my wickedness and sin and received forgiveness and deliverance through Jesus Christ.
God also freed me from pride so that I no longer look down on other people.
I realised that if God doesn't give me grace every day, I will end up 10 times worse than I was before. My greatest wish is to stay close to the Lord, to serve Him with all my heart and never to forget what good He has done for me. How I would regret it if I would forget and reject this grace!
I would like to live this life that is proclaimed in the Bible and practised by Rev. Erlo Stegen and his co-workers. Very often I experienced that if I had a problem Rev. Erlo Stegen took time and gave himself to pray with me even at inopportune times. As a result, I experienced help and change in my life.
Rev. Erlo Stegen and his coworkers have supported me unselfishly over the past few decades, in keeping with the name KwaSizabantu "the place where people are helped". I am grateful to them from the bottom of my heart.
Fridolin Tschudi