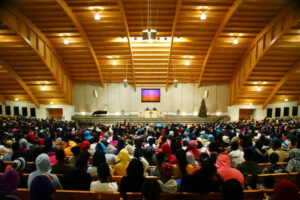 Thursday, 18 December: Rev Stephen Lungu (originally from Zimbabwe, and now part of Africa Enterprise) took the morning service. He shared his testimony in a moving way, based on the text from Mark 10:46-52, about blind Bartimaeus. Just as Bartimaeus was a reject so too Rev Stephen was an outcast from his family and society. In a tent service one night Christ found him in a dramatic way. He invited the children to also surrender their lives to Jesus.
The afternoon was dedicated to those young people who wanted to testify of what the Lord had done in their lives this past week. There were some very moving testimonies.
The final service, at 7pm, was taken by Rev Stegen on the theme verses in Hebrews 11. He looked at Moses' life before and during his upbringing and what an momentous decision it was for him to identify with God and His people rather that the temporary pleasures of Egypt. All these pleasures were at Moses' disposal since he was a royal prince in Pharaoh's household. We too must make a deliberate and permanent choice because it will affect our eternity. We must look to the eternal reward.
Although the services are now officially over it will still take 2 or 3 days to transport all the children back to their homes. Some of them are from hundreds of kilometres away. Daily services will continue for them until they go home.
The Lord has worked mightily. Thank the Lord with us and keep on praying for these young people. Many are from broken homes where alcohol and drugs are available and ancestral worship is practised.
Wednesday, 17 December: The whole day is dedicated to sports. Children have formed teams (up to 40 soccer teams) and will compete in netball, volleyball and soccer. 7pm is the only service. Prizes are handed out after the competitions. (photos to come)
The evening service was taken by Rev Erlo Stegen. The theme was "As seeing Him who is unseen", taken from the Hebrews 11 theme verses. He looked at the history of Moses.
Some children will be leaving tomorrow. Those that came last Thursday will be returned tomorrow so that our transport can continue taking those who have been here one week.
Wednesday 17 December was dedicated to Sports. Children formed teams to play netball, volleyball and soccer. Prizes were handed out at the end of the day:
Tuesday, 16 December: The morning service was taken by Gideon Jakobs of Kwasizabantu Free State. His sermon was based on Is 53:7: He was oppressed, and he was afflicted, yet he opened not his mouth; like a lamb that is led to the slaughter, and like a sheep that before its shearers is silent, so he opened not his mouth." Jesus Christ was shorn of His glory in coming to earth. He allowed Himself to be silent before the shearers in death. We too need to take His road (and that of Moses) in choosing to be silent before the shearer. Mr Jacobs showed slides of sheep being shorn and used various illustrations about the danger of not allowing yourself to be shorn. (He used to be a sheep farmer before he became a pastor so he could speak from personal experience.)
After the message the Gideons distributed 5,000 Bibles among the children. The majority of the Bibles were in Zulu and a few hundred were in English and Afrikaans.
The afternoon service was in 2 places, for girls and boys from 12 years and up to discuss young peoples issues. Rev Stegen spoke to the boys who ga
Photos of Youth Conference, 16 December 2014:
Monday, 15 December: Rev Joseph Chauke preached from 10 different verses about the heart. The main verse was Prov 23:26: "my son, give me your heart". He appealed to the youth to give their hearts to the Lord Jesus Christ.
The 3pm service was held by CYPSA who shared about various issues affecting young people including the possible legalisation of dagga (marijuana).
The 7pm service was held by Rev Stegen. He started by telling the young people about the recent story of 4 Iraqi children who were beheaded by ISIS for refusing to become Muslims. He then preached from the theme verse who chose "the reproach of Christ rather than the fleeting pleasures of Egypt". Moses may not have known much about Christ and the power of His blood. Rev 12:11 speaks about satan the accuser who was overcome by the Blood of the Lamb.
Photos of 15 December Youth Conference Kwasizabantu 2014:
Sunday, 14 December: A few more thousand have arrived and most children are now here. Only a few late-comers are expected by tomorrow morning.
Rev Stegen Preached at the 11am service (photos to come) on the Power of the Blood ([more].) Using various verses from the Bible he showed how the Divine Blood of Jesus has power to heal and cure from sin. Just as the white blood corpuscles are like the soldiers in our blood stream rusching to defend and heal, so too if we have become Christians the Blood of our Lord rushes to deal with every sin.
In the afternoon service there was the continuation of the 40 years celebration with some of those who were at the first services in 1974 testifying of what the Lord taught them and what He performed in their lives.
The evening service was taken by Doctors for Life to speak about (with visual aids) present day issues that affect young people.
Photos from Sunday 14 December 2014:
Saturday, 13 December: Over a thousand more children arrived during the night and many more are still expected. Alpheus Mdlalose preached in the morning service from the theme verse in Heb 11:26. He delved into Moses' life and showed how, despite all the temporary pleasures around him, he made a deliberate choice for the Lord, for "He considered the reproach of Christ greater wealth than the treasures of Egypt, for he was looking to the reward". He invited the children to make that same choice. In the afternoon 3pm service drug addicts testified powerfully about Christ's liberation in their lives.
In the evening, Mr Heino Stegen shared from the theme and he used the example of Joseph from the Old Testament. Through Joseph even his family were rescued and so too the families of children here at this conference can be blessed through them to turning to the Lord. He also showed how God didn't make hell for humans but for satan and his angels. Mr Stegen asked: is Jesus your Lord. Only by clinging to Him can we be saved. Jesus said that He has come to set the captives free. He pointed out that it does not help to keep making decisions and resolutions. "Come to God's shop", he declared, referring to Isaiah 55:1,2. He gives you the gift of freedom and new life.
Friday, 12 December: Today and tomorrow (and even Sunday) are arrival days from all corners of KwaZulu-Natal and other parts of South Africa. By this morning, about 900 had already arrived. In July we had 7,000 children, teens and young adults for the week of services. On the weekend, adults were invited and the crowds swelled to about 10,000. It was a special celebration of 40 years of Youth Conferences. This December we don't expect so many and, though there will be mention of the 40 years, there are not so many celebrations.
The first service today was held by Rev J. Newlands. This afternoon will be testimonies of those who have experienced the Lord's grace since the previous Youth Conference. This evening, when quite a few more should have arrived, Michael Ngubane took the 7pm service and preached from Rev 2:10b: "Be faithful unto death and I will give you the crown of life"..
Photos from 12 and 13 December of the Kwasizabantu Youth Conference 2014:
Please pray for the precious souls that will be spending a week listening to God's Word. Our own strength is incapable of converting a single child.
Food for the week: To give a little insight into the quantity of food we have for the week, the following details are a rough estimate of how much we have received via donations or have been bought:
Mielie-meal (ground corn), 2000kg
Samp (dried corn kernals), 1000kg
Onions, 1000kg
Sugar, 2000kg
Potatoes, 7000kg
Beef, 7 cattle were slaughtered
Chicken, 1000kg
Rice, 5000kg
(This list excludes the fresh vegetables, salads, amasi [cultured milk] and other types of food which we will be using).