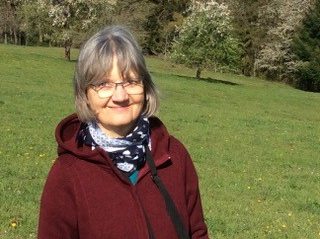 Meinen Dank an Gott
Als ich das erste mal Missionar Erlo Stegen predigen hörte, wusste ich sofort, dass diese Botschaft von Gott war. Obwohl ich mich eine Christin nannte, wurde mir mein sündiges Leben immer mehr bewußt. Gott schenkte es, das ich KSB besuchen konnte. Das war für mich ein großes Glück und die Chance für einen Neuanfang. Dort konnte ich sehen, dass die Christen von der Mission KSB wirklich das leben, was sie sagen und predigen. Vielen, vielen Dank an all die lieben Menschen, die ich dort kennen gelernt habe, für die erfahrene Hilfe und meinen Dank an unseren wunderbaren Gott, der seinem verirrten Kind nachgeht.
Wir alle können Fehler machen. Wenn wir damit zu Gott gehen, vergibt er uns und kann daraus sogar etwas Gutes für die Zukunft machen.
Ein Lied:
Halt mich treu Herr Jesu, halt mich treu !
Halt mich treu Herr Jesu, halt mich treu !
Einen Weg hab ich zu gehn,
manchen Kampf noch zu bestehn,
durch die Kraft,
die es schafft.
Halt mich treu !
Karin Pollmann
Germany
When I first heard missionary Erlo Stegen preach, I immediately knew that this message was from God. Although I called myself a Christian, I became more and more aware of my sinful life. God granted me the opportunity to visit KSB. This was a great joy for me and an opportunity for a fresh start. I could see that the Christians from KSB Mission really lived what they said and preached. Many, many thanks to all the lovely people I met there and for the help I received from you. I thank our wonderful God who goes after his lost children.
We all make mistakes. When we take it to God, He forgives us and He can even make something good out of it for the future.
A song:
Keep me true Lord Jesus, keep me true!
Keep me true Lord Jesus, keep me true!
There's a race that I must run,
there are victories to be won,
give me power,
every hour,
Keep me true!
Karin Pollmann
Germany