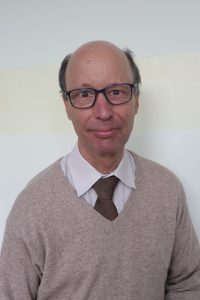 Schon während der Schulzeit machte ich mir tiefe Gedanken über das Leben. Außer den äußerlichen Dingen gab es noch die eigentlichen, das war mir klar. Wo würde ich sie finden? Zu Hause sicher nicht. Also los! Ich wollte nicht mit dem Studium beginnen, ehe ich nicht den Sinn meines Hierseins erfasst hätte.
Das Fahrrad bekam einen Schlafsack aufgeschnallt, ein Zelt, das Kochgeschirr und wenige andere Dinge. Nach drei Monaten war ich in Griechenland, nahm von dort das Schiff nach Ägypten und kam nach einem weiteren Jahr in Namibia an. Ich hatte das Leben nicht gefunden, den Frieden für die Seele. Weiter irrte ich durch Südafrika, hatte kein Ziel mehr, auch keine Hoffnung. Über zwei Jahre schon weg von zu Hause! Heute glaube ich, dass der Herr selbst mich immer weiter geschoben hat um mich dorthin zu bringen, wo Er mir begegnen wollte.
Weil die Missionsstation schon über tausend Meter hoch in den Bergen liegt, die ich sonst hätte hinauf schieben müssen, nahm ich gerne die Einladung an, mich mit dem eigenen Lastwagen in der Hafenstadt abholen zu lassen auf einen Besuch. Einen Tag wollte ich bleiben.
Ich war als Christ aufgewachsen, hatte viel auf Missionsstationen übernachtet, aber was ich jetzt sah, übertraf alles. Die Menschen, die dort lebten, hatten etwas, das ich noch nie gesehen hatte: Eine beständige innere Freude, eine echte Demut, echten Frieden in den Augen. Es war klar, dass dies das Leben ist, das nur Gott geben kann. "Wenn ich die Hälfte von dem bekommen kann, was ihr habt, dann bin ich bereit mein alles dafür zu geben", dachte ich. Nun könnte man sagen, da war ja nicht mehr viel vorhanden zu geben, ich war ja ohnehin am Ende. Aber da war der Stolz ganz dick vorhanden, der Eigenwille, hatte grundsätzlich recht und konnte auf meinen Nächsten herabschauen.
Ein helles Licht kam in mich hinein, eine Freude Gottes Willen zu tun. Die jahrelang getragene Last verschwand, als ich meine Sünden heraussagte und wir darüber beteten. Mein ganzes Leben konnte ich auf diese Weise bereinigen.
Auf 31 Jahre war ich geschätzt worden, als ich ankam, und konnte eine solche Verjüngungskur durchmachen, dass ich noch vier Jahre später auf 18 geschätzt wurde. Mein Fahrrad ließ ich stehen und flog auf direktem Wege zu meinen Eltern zurück.
Wenn es nicht die Erweckung gegeben hätte, dann wäre ich irgendwo verschollen. Dem Leiter werde ich bis zum Ende dankbar sein, dass er bereit gewesen war den Preis zu bezahlen und damit auch mir das Leben gerettet hat.
Seitdem habe ich mein Leben nie mehr in die eigene Hand genommen, nun fast vierzig Jahre lang. Die Grundlage, die ich in der kurzen Zeit empfangen hatte, erwies sich als so tragfähig, dass ich vor sehr vielen Fehltritten bewahrt wurde, und ich kann Gott nur danken dafür, dass ich heute noch immer auf dem Wege bin.
Wolfgang Zimmermann, Deutschland
When I was at school, I thought deeply about life. Besides tangible, outward things, there had to be more to life. Where would I find it? Certainly not at home. So off I went! I did not want to start studying before I found the meaning of my existence.
A sleeping bag was strapped to my bicycle as well as a tent, some cooking utensils, and a few other things. Three months later I was in Greece; from there I took a ship to Egypt and arrived in Namibia one year later. I had still not found life and peace for my soul. I continued to wander through South Africa without a goal and no hope either. I had been away from home for two years already! Today I believe that the Lord Himself kept pushing me further until I arrived at the place where He wanted to meet with me.
Since Kwasizabantu Mission lies in the mountains at a thousand meters above sea level, and I would have had to push my bicycle all the way, I gladly accepted the invitation to be picked up at the Durban harbour and be driven to the mission station in a truck. I intended to stay for one day.
I had grown up as a Christian and spent many nights on mission stations, but what I saw here surpassed everything. The people that lived on KwaSizabantu had something which I had never seen before: a constant inner joy, true humility and peace that shone in their eyes. It was clear that this was life that only God could give. I thought to myself, "If I could get half of what you have, then I am ready to give my all for it." You could say there was not much left to give, I was already at my end. But there was pride in my life and a strong will that persistently believed that I was right, and I looked down on others.
A bright light entered my life together with a joy to do God's will. The great burden I had carried for many years disappeared when I confessed my sin and was prayed for. I could cleanse my whole life in this way.
When I first arrived, people estimated that I was 31 years of age, but I could experience such a complete change that for the next four years I was thought to be 18 years old. I left my bicycle behind and flew straight back to my parents.
If it had not been for the revival, I would have been lost. I am forever grateful to the leader of the mission that he was willing to pay the price. Because of his obedience, my life too was saved.
Since then I have never again taken my life into my own hands. It has been almost forty years now. The foundation that I received in that short time was so stable that it kept me from many a fall and I can only thank God that I am still walking this way today.
Wolfgang Zimmermann, Germany