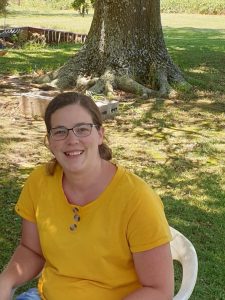 Mein Name ist Deborah Gilb und ich wohne in der Schweiz. Ich möchte gerne schreiben was ich erlebt habe im letzten Jahr mit der Mission KwaSizabantu.
Ich war in einem grossen innerlichen Kampf in Jahr 2019 und wusste weder ein noch aus. Ich kam an einen Punkt wo ich zu meinem Mann ging und sagte: "Jetzt ist fertig ich kann nicht mehr!" Er sagte mir: "Komm, wir fragen jemanden von KwaSizabantu ob er mit dir beten kann!" Ich willigte ein und so konnte ich mit einem Mann Gottes beten. Was ich danach erlebt habe war unglaublich. Ich hatte einen Frieden bekommen den ich nicht kannte.
Dieses Gebet hat mich Monate lange beschäftigt und nicht mehr los gelassen. Ich wollte mehr davon haben mehr von diesem Frieden. Ich fragte meinen Mann ob wir nicht auf die Mission KwaSizabantu fliegen könnten. Der HERR hat es uns geschenkt dass wir in Januar 2020 für 3 Wochen gehen konnten.
Es wurde zu diesem Zeitpunkt so viel schlechtes über die Mission KwaSizabantu gesagt, dass auch ich Zweifel hatte. Ich wollte es einfach mit meinen eigenen Augen sehen, ob es stimmte. So wir sind nach einem langen Flug in Durban gelandet und als wir auf der Mission ankamen, müde und erschöpft, war es als ob ich im Himmel angekommen war. Die Ausstrahlung der Gesichter, diesen Frieden den man spürte. Mir kamen die Freudentränen. Es war als ob ich es gefunden habe wonach ich jahrelang gesucht habe. In den drei Wochen durften wir erleben, wo wir auch auf Besuch waren wir wurden mit offenen und warmen und liebenden Herzen willkommen geheissen. Es wurde nie schlechtes geredet, wir wurden viel mehr ermutigt unsere Leben mit Gott in Ordnung zu bringen. Wir sahen eine Jugend die der HERR gebrauchen kann. Ich durfte auf der Mission KwaSizabantu mein Leben in Ordnung bringen und es wurde mit mir gebetet und ich war frei von meinen Sünden. Ich bin dem HERRN überaus dankbar für diese Zeit die wir auf der Mission KwaSizabantu hatten. Einige Wochen später hätten wir nicht mehr fliegen können wegen Corona. Der HERR war so gut zu uns. Wenn man das Leben auf der Mission erlebt und gesehen hat, dann kann man alles schlechte das man gehört hatte, einfach in den Müll werfen.
Was ich mir für alle wünsche die Fragen haben oder Unsicherheit verspüren, nehmt allen Mut und geht da hin an den Ort wo euch geholfen wird.
Ich möchte mich bei allen auf der Mission KwaSizabantu bedanken für ihr Vorbild und ihre Treue zum HERRN und für alle ihre Gebete. Ich kann nur DANKE DANKE DANKE sagen, möge der HERR euch weiter reichlich segnen, führen und leiten.
Deborah Gilb
My name is Deborah Gilb and I live in Switzerland. I would like to write what I have experienced the past year with KwaSizabantu Mission.
I had a great inner battle in the year 2019 and I did not know what to do. I got to the point when I went to my husband and said, "This is enough now I can't anymore!" He said to me, "Come, let's ask someone from KwaSizabantu to pray with you!" I agreed and so I could pray together with a man of God. What I experienced after that was unbelievable. I received a peace that I had not known before. This prayer kept me busy for many months and it did not leave me. I wanted more of this, and more of this peace. I asked my husband if we could fly to KwaSizabantu Mission. The Lord made it possible that we could go for 3 weeks in January 2020.
At this point, so many bad things were spoken about KwaSizabantu Mission that I also had doubts. I just wanted to see with my own eyes whether it was true. After a long flight we landed in Durban, and as we arrived at the Mission, tired and exhausted, it was as if I arrived in heaven. The shining faces, the peace that one could feel. I had tears of joy. It was as if I had found that for which I had been searching for many years.
In those three weeks, we could experience that wherever we visited we were welcomed with open, warm and loving hearts. Never was there any bad talk, instead we were encouraged to make our lives right with God. We saw young people whom the Lord can use. I could make my life right at KwaSizabantu Mission, I received prayer and was set free from my sins. I am so thankful to the Lord for this time at KwaSizabantu Mission. A few weeks later, we would not have been able to fly because of corona. The Lord was so good to us. If you have seen and experienced the life on KwaSizabantu Mission, then you can throw away all the bad things that you have heard.
What I wish for everyone who has questions or who is uncertain, take the courage to go to the place where you get help.
I want to thank everyone at KwaSizabantu Mission for their example, their faithfulness to God and their prayers. I can only say THANK YOU, THANK YOU, THANK YOU – may the Lord richly bless, lead and guide you.
Deborah Gilb