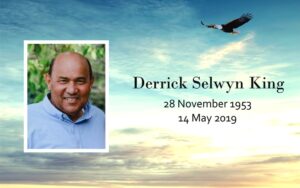 We thank the Lord for the life of our brother and fellow co-worker Derrick King who went to be with the Lord on 14 May 2019.  At his funeral, friends and fellow-pastors from Pietermaritzburg testified of the blessing and inspiration his life had been to them, saying that he was a man who spoke with authority.  Even when there were difficult times, he would hold on.  He is remembered for often saying, "We may not compromise or lower the standard."
During his battle with cancer, Derrick would say, "We cancer patients are so privileged, because we can prepare to meet God."  And he really did that.  He put right everything which God showed him which stood between him and God.
What a privilege to experience Christ's saving grace.  Derrick, at all times, was concerned about his spiritual robe.  He said, "I hear that only those who are clothed in white will stand before Him.  My robe needs to be white."
His last words to a brother who assisted him on his spiritual walk were, "It is well with my soul."  How wonderful to enter eternity with this assurance!
What a blessing to hear his family testify about what they experienced living with him day in and day out.  "If he says something is ungodly, you can do what you like, he won't compromise," is what his wife said, she who knew him best.
She also said, "Not one day in the nearly 26 years of marriage, did I doubt Derrick's relationship with God.  He was ever careful to act and react in a way that was pleasing to God."
Derrick was described as a warrior standing with other warriors, fighting for the cause of the Gospel of our Lord Jesus Christ.  Moments before he breathed his last, he told those with him that he saw an army coming with one Leader.  An army was coming for him.  Was it the army of the heavenly hosts, the saints?  His wife, Myrna, could just say, "God Himself with His army had come to fetch him."
God is doing wonderful things.  He was a man whom his wife could honour, his children could obey, the congregation is blessed. No one wishes for anyone to suffer, but Derrick as a soldier of Christ, fought victoriously, and today we can give honour and glory to Him who came to fetch him, the Lord of lords and King of kings.