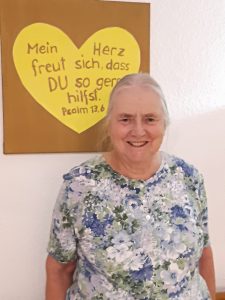 Seit 1979 kenne ich die Mission KwaSizabantu und sie ist mir nach 41 Jahren kostbarer als je zuvor.
Ich litt schon früh an Depressionen und sehnte mich nach Befreiung und nach einem siegreichen Leben. Ich kam auch in eine unlautere charismatische Richtung hinein. Da las ich ein Buch von der Erweckung auf Sizabantu. In meinen Sommerferien gab Gott mir die Gelegenheit, nach Südafrika zu fliegen. In Sizabantu ist mir eine neue Welt aufgegangen. Ich wurde überwältigt von der Gastfreundschaft und Liebe der weißen und schwarzen Mitarbeiter. Sie waren so freundlich zu mir und all den verschiedenen Besuchern. Das alte Evangelium wurde in Kraft gepredigt, da war keine Schwärmerei.
Gott begann mir den Grund meiner Freudlosigkeit zu zeigen, meine Sünden, die mich von ihm trennten. Ich konnte sie in der Seelsorge bekennen und das war es, wodurch ich wirklich glücklich und frei wurde. Ich lebte richtig auf. Nach vier Wochen wollte ich gar nicht mehr nachhause. So war der Wunsch da, längere Zeit auf Sizabantu zu bleiben und dort mit zu helfen. Als ich zurück kehrte aus den Ferien auf Sizabantu, bin ich zu meinen Eltern gegangen und habe mein Leben mit ihnen bereinigt und auch mit meinen Mitmenschen. Die Menschen waren dadurch so bewegt, dass sie die Vorträge von Onkel Erlo besuchen kamen. Gott fügte es so, dass ich meine Stelle als Kindergärtnerin kündigen konnte, um ein Jahr auf die Missionsstation zu kommen. In dieser Zeit habe ich viel Liebe und Verständnis erfahren. Ich durfte viel lernen auch im Umgang mit anders artigen Menschen. Es war mir eine Freude, in der Küche und beim Nähen zu helfen. Ja ich durfte mit Kay Stegen, der Frau von Erlo Stegen, für hunderte von Menschen kochen und Essen ausgeben. Dieses auch manchmal draußen, im Freien. Die Zeit mit Kay Stegen ist mir in besonders guter Erinnerung. Es war eine gesegnete Zeit.
Von Onkel Erlo, der wie ein Vater um mich besorgt war, habe ich nur Liebes und Gutes erfahren. Viele schöne Begebenheiten sind mir unauslöschlich im Gedächtnis und Herzen geblieben. Wenn es mir möglich wäre, würde ich wieder nach Sizabantu kommen, um für immer dort zu bleiben. Damals, als ich zum ersten Mal kam, war ich 36 Jahre alt, Neun mal durfte ich die Missionsstation besuchen. Jetzt bin ich 76 Jahre alt und wohne in einem Altersheim in der Nähe von Zürich in der Schweiz. Ich werde weiterhin so gesegnet von der Missionsstation Sizabantu. Denn jeden Tag warte ich gespannt auf die Radio Khwezistunde auf die Andacht und am Sonntag auf den Gottesdienst. Die virtuelle Jugendfreizeit, fight the good fight of faith, und der schmale Weg von Schwester Lydia Dube, die ich live hören und sehen konnte, haben mich sehr glücklich gemacht. So auch die Elternkonferenz, Adam wo bist du. Gott zeigte mir einige Situationen, wo ich falsch gehandelt habe und das konnte ich wieder in der Seelsorge bereinigen.
Von ganzem Herzen möchte ich der Leitung von der Mission KwaSizabantu danken für ihre Liebe und ihren unermüdlichen Einsatz, dass wir auch hier in der Schweiz das klare Evangelium hören können. Eine achtundachzigjährige Freundin von mir aus Zürich sagte: auf Sizabantu habe ich zum ersten Mal in meinem Leben wahre, echte Christen getroffen und erlebt, was wahre Liebe ist. Es war mir dort so wohl, sonst wäre ich nicht 15 Mal auf Sizabantu gewesen.
Der Herr Möge Euch reichlich Segnen und Eure Liebe reich vergelten. Ich stehe ganz zu Euch und will dem Herrn Jesus treu bleiben mit Gottes Hilfe, danke viel mal. Ich liebe Euch alle sehr!
Ich bin dankbar für die Geschwister in der Schweiz, die mit dem Herrn Jesus und Sizabantu den gleichen Weg gehen, und von denen ich viel Liebe bekomme.
Irene Rytz
I have known KwaSizabantu mission since 1979 and after 41 years it is more precious to me than ever before.
I suffered from depression from an early age and longed for liberation and a victorious life. I also started taking a disingenuous and charismatic direction. Then I read a book of the revival at Sizabantu. During my summer holidays, God gave me the opportunity to fly to South Africa.  In Sizabantu a new world opened up to me. I was overwhelmed by the hospitality and love of white and black coworkers. They were so friendly to me and all the different visitors. The old gospel was preached in force, there was no flattering.
God began to show me the reason of my lack of joy, it was my sins that separated me from him. I was able to confess them in counselling and that was what made me really happy and free. I was revived. At the end of the four weeks I didn't want to go home. There was a desire to stay at Sizabantu longer and help there. When I returned home from my holidays at Sizabantu, I went to my parents and made my life right with them and with my fellowmen. They were so touched by this, that they also came to Uncle Erlo's services. God made a way that I could resign from my job as a kindergarten teacher and come to the mission station for a year. During this time, I experienced a lot of love and appreciation. I was able to learn a lot, even in dealing with different kinds of people. It was a pleasure to help in the kitchen and with the sewing. I was even allowed to cook and serve food for hundreds of people with Kay Stegen, the wife of Erlo Stegen – sometimes even outdoors. I have particular fond memories of the time with Kay Stegen. It was a blessed time.
From Uncle Erlo, who looked after me like a father, I only experienced good things. Many beautiful events have remained indelibly in my memory and in my heart. If I could, I would come back to Sizabantu to stay there forever. When I came for the first time, I was 36 years old. I was able to visit the mission station nine times. I am now 76 years old and live in a retirement home near Zurich in Switzerland. I continue to be so blessed by Sizabantu Mission, because every day I eagerly wait for the German Radio Khwezi program, and for the daily devotion and on Sunday for the service. The virtual youth camp, 'fight the good fight of faith', and 'the narrow path' by Sister Lydia Dube, which I could watch and listen to "live", made me very happy. Also the parents' conference, 'Adam where are you'. God showed me some situations where I had acted wrongly, and I was able to bring it to the light through counselling.
I would like to thank the leadership of KwaSizabantu Mission from the bottom of my heart for their love and their tireless commitment enabling us to hear the clear Gospel here in Switzerland. An eighty-eight-year-old friend of mine from Zurich said, "At Sizabantu, I met true, real Christians for the first time in my life and experienced what true love is. I was so happy there, otherwise I would not have been to Sizabantu 15 times."
May the Lord bless you richly and repay your love abundantly. I stand completely with you and want to remain faithful to the Lord Jesus with God's help. Thank you very much. I love you all very much!
I am so thankful for the fellow believers in Switzerland, who walk with the Lord Jesus and Sizabantu together with me, and from whom I receive so much love.
Irene Rytz