Siyabonga "Ayiqhubeke Indaba"
My name is Aza Manyano Nyoka. I grew up in a Godly family with my parents as Christians and my dad even took me to a Christian school which had started the very year I enrolled in Umtata. This was where the seed of faith and missionary work was planted in my life. It was a school just like DSS where we got good hidings when we needed one because of our own foolishness and wrongs as children and I appreciate each one of those. Umtata Christian School did not have high school capacity my parents sent me to another school. Here and in the community where we lived I got influenced by friends into smoking cigarettes, dagga and drinking. I started questioning why we can't know everything about God, what is he hiding was my question. I left all that I had grown up knowing and rebelled due to this.
It was at the end of my standard 9 (grade 11) that after 6 months of trying to stop smoking and drinking by myself and failed I visited a cousin of mine with whom we went to the same Christian school. He was performing excellently in school because he had changed his life and given his life to the Lord Jesus. One day I went to my cousins in East London. They were in church, and on arrival I started asking myself the question where am I going with this life of mine with the way I was living it and the answer came clearly to me "hell". I was not born again and even here on earth it will be a life of hell. I saw that I probably won't make it to University and even if I do I will probably get there and make some girl pregnant and have to stop studying and take care of that child and would try to get some job and I saw myself living in a shack. At this point sitting alone in a chair in that church building no service was happening but somehow an answer came to my heart "only Jesus can save me". So it was that someone came and simply asked if I want to give my life to Jesus as if they heard the conversation in my heart and mind. I said yes and this person prayed with me and I wanted to confess my sins and I did and like that I was freed from all the my sinful life and all the smoking  and drinking and trying to have girlfriends.
I decided to serve God in missionary work for a year after my matric. I was seeking God earnestly and the Lord spoke to me through Mark 10:29-30 "Then Peter spoke up, "We have left everything to follow you. Truly I tell you," Jesus replied, "no one who has left home or brothers or sisters or mother or father or children or fields for me and the gospel will fail to receive a hundred times as much in this present age: homes, brothers, sisters, mothers, children and fields—along with persecutions—and in the age to come eternal life." I felt like God was speaking to me that this is what he wanted me to, for His sake and the Gospel. Not long after this, Mr Matomela, a family friend, gave my parents the book God Among the Zulus. When I read it I saw only miracles and God's working I'd only seen in the Bible and I said I want to see this.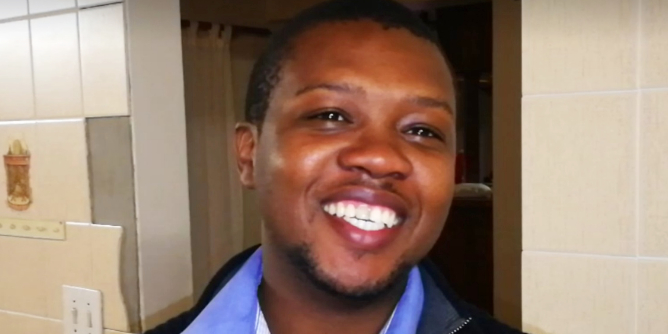 So it happened that Bab' Mfundisi (Rev. Stegen) was preaching in the Eastern Cape in Uitenhage at exactly the same time with the team of co-workers and the Kwasizabantu Choir. My mom and Mrs Matomela drove me to them and I then drove with the Kwasizanbantu Choir from there back to the Mission.
When we arrived around 12:00 midnight a couple of people came to receive the team and sang and prayed thanking God for the safe journey. I felt I was in another place I could sense the presence of God on the Mission. From the very first day I started helping in the dining hall. The messages preached in the services touched me deeply. I continued to cleanse my life of all the evil I had been doing and sought God truly. I got a chance to go home visiting and I apologised to those I had wronged.
The challenge I had around May of that year was that I did not want to go home anymore because I felt what more does one want in life than to serve God with my life and keep my life clean before him. I had promised my parents that I would stay for a year and go back to school. The Lord was merciful to me and kept me through the many prayers of my counsellor bab' uHlongwane and other fathers on the Mission. I remember how bab' Zuma called and bab' uNgubane encouraged me when I came visiting I remember their words vividly. I even got scholarship that paid for all my studying costs and living costs. I came visiting during youth conferences and the mothers and fathers on the mission prayed for me. By these my life was kept from all the wickedness of university. I could share the Gospel with other young people in the university, we had Bible study meetings in my room and many came to know the Lord I felt like the Lord sent me there also for other lives. Some left their girlfriends and some alcohol because of the Gospel.
The Lord gave me good marks and I finished the degree. After working in an Audit firm, I believed the Lord wanted me to come to Kwasizabantu and serve Him. In September 2019 my father prayed for me to go and serve the Lord and preach the Gospel and he released me willingly and with a glad heart having been here at the Mission before with my mom visiting for many years now.
Today I realise how the Lord has worked and planned out all my life for his own purposes. I look back and see the hand of the Lord through my life. All I can say is, siyabonga, Enkosi kakhulu siyabulela, Vielen Danke. As Baba umfundisi would say "ayiqhubeke indaba".