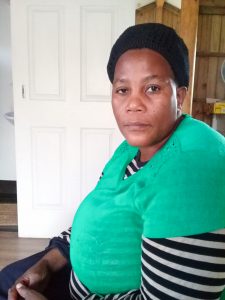 Ngiyabonga ungenze umuntu, KSB.
Ngifike mina ndihluphekile yangaka nginengane ngathola umsebenzi ngiyahola imali, futhi ngifundisa ingane ngondla ikhaya. Sengakhale ingane zami ikhaya nginonomuzi. Ngombona Nkulunkulu ngenceku yakhe uBab' uMfundisi amenze ithulusi ukukhanda imphefumulo yabantu ngalelivangeli eliphilayo. Nginjenje ngenxa yalo. Ngibonga.
Thandi Mkhize
eNgudwini
Thank you for making me a person, KSB.
I arrived while in great difficulty, having children. I received work and could earn money, I can now pay children school fees and feed my family. I was also able to build my children a home.
I experienced God through His servant, Baba Mfundisi (Reverend Stegen), who was a tool in His hands to repair the souls of the people with this living gospel.
I am what I am today because of this Gospel. Thank you.