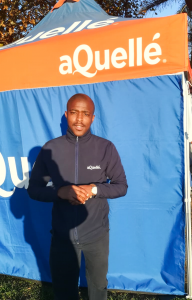 I would like to deliver a short testimony.
I arrived at Kwasizabantu Mission on 2019/06/14. I had a serious drug addiction, I was using Christal Meth, the worst substance that deteriorates a child's future. I started using it at the age of 16. I decided to stop last year. I couldn't have done without God's intervention because I've been to several rehabs but instead of me stopping it escalated even worse. Then I decided to get help at Kwasizabantu Mission under a programme called CYPSA. It's a programme that uplifts a person's future through counselling and praying. The more I confessed my sins I felt a HUGE relief and I could feel I've found a relationship with God.
After some time I felt in my heart to assist in the Mission at the kitchen because I felt so grateful for what it has done for me. I was helping out with dishing out at the dining hall. After two weeks I was called by the elders that I've been given an opportunity to work at aQuellé. I COULDN'T BELIEVE IT because I had no hope in starting afresh and with a criminal record. Now I'm in procurement with my colleague. Till today I cannot believe what the Mission has done for me. My daughter attends a private school now, she doesn't have a drug addict as a father.
Before I conclude I would like to thank Rev Stegen, Aunty uMkhulu and all the residents who stay here at the Mission for welcoming myself and other people who had similar problems like I had. They have shown love, not a single day it feels like I'm not at home. Imagine welcoming a criminal like me while the government rejects us but the Mission doesn't look at your past. The focus is on you to find God.
Baphethuxolo Mafeke
Port Edward