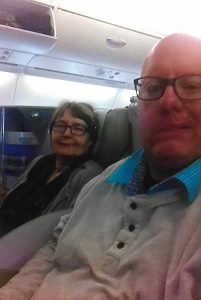 Je m'appelle Colette Thyrant, j'ai trois enfants et j'habite en France.
Je remercie le Révérend Erlo Stegen d'être venu en France pour nous annoncer l'Evangile de Jésus-Christ. L'Amour n'a pas de frontières. Erlo Stegen est un vrai serviteur de Dieu, il le démontre par sa vie, par l'amour du prochain.
J'ai eu la grâce de venir à KwaSizabantu sur cette terre de réveil. Oui, sur place, sur la station missionnaire, il y a la paix, l'humilité, le respect de l'autre, l'unité, la joie d'aimer et de servir son prochain. C'est Dieu qui pourvoit aux besoins. Il n'y a pas de demandes d'argent parce que l'Evangile est vécu au quotidien  par des personnes transformées dont les coeurs ont été purifiés.
La brebis perdue que j'étais a trouvé le chemin étroit qui mène à la vie. Mes enfants l'expériment aussi. Que Dieu vous bénisse.
My name is Colette Thyrant, I have three children and I live in France.
I thank Reverend Erlo Stegen for coming to France to share the Gospel of Jesus Christ with us. Neighbourly love has no borders. Erlo Stegen is a true servant of God, he demonstrates it by his life, by the love of one's neighbour.
It is through grace that I could come to KwaSizabantu, to this place of revival. On the mission station there is peace, humility, respect for others, unity; the joy of loving and serving one's neighbour. It is God who provides for any needs. There are no requests for money because the Gospel is lived daily by transformed people whose hearts have been purified.
The lost sheep that I was, has found the narrow path to life. My children are also experiencing it. God bless you.
Greetings.