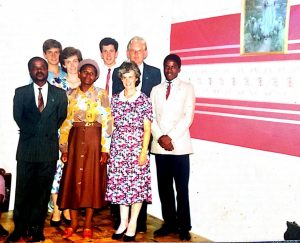 I grew up on a farm near Winterton. The farm owner Mr van Niekerk gave his truck to take us to church after he found out about Kwasizabantu Mission. My parents got converted to the Lord and as a child I became conscious of what was good and what was not good.
Mr W. Engelbrecht would transport us during the school holidays to the youth services. We used to enjoy the preaching and we would imitate the preacher and his interpreter (especially Rev E.H. Stegen and ubaba uOlsen). This was one way I improved my English. I communicated better with people who could not speak my language. I eventually had a personal relationship with God and helped at the mission's mechanical workshop.
I learned a lot of good things at the mission including; saving money, driving, caring for others, etc. Most importantly, I learned discipline and self control which took me through my university life to this time of working as a government school teacher. Every time I think of thanking God and the selfless people who have helped me, I feel helpless. I am however always comforted by Reverend E.H. Stegen's words that living for the Lord Jesus is the greatest gift we can give him.
I currently help at  Kwasizabantu Mission in the Estcourt branch.
Mlungisi Ndlovu