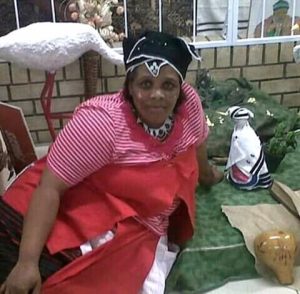 Mna ndingu Lindiwe Tapile. Ikhaya lise Monti kodwa ndiphangele eMthatha. Ndadibana nabantu bakwa Sizabantu apha eMthatha beze kwipresentation, ndabe ndinonyana wam owayesitya ii-drugs. 
USinalo ndamzisa last year May 2019, safika samkelwa ngezandla ezishushu ezinobubele; nam ndahlala 5 days ndifun' ubona imeko yaphaya. 
Okokuqala kuyahluthwa, umntu utya ii-meals ezintathu futhi xana ungahluthanga uyaphinda uyophakelwa okunye ukutya.
2. Wonke umntu walapha unobubele nothando uqala kumntana omncinci ukuya komdala futhi bayambulisa umntu akagqithi nje kuwe.
3. Uvuka ekuseni uhlambe ngamanzi ashushu nasebusuku.
4. Inkonzo uyingena kathathu ngemini ufumana nokolulekwa ngengqondo zingcali zaphaya (ooMama nooTata).
5. Abantwana bethu banethuba elininzi lokufundiswa ngendlela yokuphila ebomini babo.
6. Ukutya okutyiwa phaya kucocekile ku–healthy (steamed food).
7. USnalo unyana wam uyapangela, wafumana msebenzi phaya.
8. Baninzi endaya ndabasa phaya  abantwa ngenxa yokubona imeko yalandawo futhi bancedakala abanye babuyela ezikolweni abanye bayaphangela. Izandla zam zigcwele ngabantu abafuna ukusa family zabo nabantwana babo qha ngenxa ye Covid akukavulwa. MNA ndafumana ukuphumla mhla ndasa unyana wam phaya 
Ubuyile ezokuxolisa kubantu awayebamoshile bonke bamxolela (yeyona ke ndandiyoyika leyo. Ngenxa ka Thixo, bonke babonakalisa uxolo nothando). Sizabantu waziswa nguThixo emhlabeni azokulungisa amakhaya aphukelwe ziintliziyo. Ndibuhlungu kubazali nabantwana abangekayi phaya. LA ndawo itshintsha neyakho impilo. 
PHAMBILI SIZABANTU PHAMBILI. BAWO MAKANIFIHLE PHANTSI KWEPHIKO LAKHE. ASIJIKI NGAWE. AMEN. 
I am Lindiwe Tapile. I am from East London and I work in Umtata. I met with people from Kwasizabantu when they came here to Umtata for a campaign. I have a son named Sinalo Tapile who was a drug addict and who was helped in May 2019.
I took him to Kwasizabantu Mission last year and we were welcomed with open arms. I stayed for 5 days because I wanted to observe the place.
1. Three meals are served every day and one can go for a second helping if one is not satisfied.
2. Everyone there is kind and loving, from small children to adults. Moreover, you are greeted even if you are a stranger, you just don't get passed by without being greeted.
3. You wake up in the morning and wash with hot water, and again in the evening.
4. You attend services three times a day and counsellors are available. (mothers and fathers)
5. Our children have a good opportunity to be taught how to live.
6. The food that is served there is hygienic and healthy.
7. My son Sinalo is working there now.
8. There are many children that I have sent to that place and they were helped. Now some have gone back to school and some are working.
My hands are full, so many people want to send their children and families to that place, but due to Covid-19 it is still closed. I personally found peace and relief since I took my child to that place.
He came back to be reconciled with people whom he had wronged, and they forgave him (I was very afraid, but because of God they all showed forgiveness and love towards him).
Kwasizabantu – you were brought by God to this world to fix broken hearts and homes. I grieve for the parents that have not taken their children to that place and that place changes your very own life.
FORWARD KWASIZABANTU FORWARD! MAY GOD HIDE YOU UNDER HIS WING AND WE ARE NOT DISMAYED BY YOU.