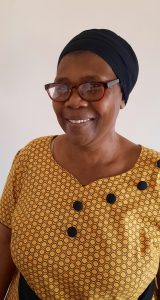 Vandag dank ek die Here vir Kwasizabantu. In my verlore toestand, was ek soos 'n dier wat in alle kampe geëet het. Daar is nie 'n sonde wat ek nie gedoen het nie. Die Here het die boodskap van Kwasizabantu gebruik om my uit die modder van sonde te haal.
Vandag kan ek vir die sê wat die Here nie ken nie, Kwasizabantu is waarlik 'n plek waar mense hulp kan kry. Ek is oortuig dat die Here teenwoordig is op Kwasizabantu en dat Hy daar werk. Daar was die Here die mense se sonde skoon en maak Hy van jou 'n nuwe mens. Ek is so dankbaar vir die groot genade dat ek die Here kon vind deur Kwasizabantu.
Sana Mgayi
Smithfield
Today I thank the Lord for Kwasizabantu. In my lost state, there was not a sin I had not committed. The Lord used the message of Kwasizabantu to save me out of the mire of sin. Today I can tell those who do not know the Lord, Kwasizabantu is truly a place where people can receive help. I am convinced that the Lord is present at Kwasizabantu and that He is working there. The Lord cleanses the sins of people and makes you a new person. I am so thankful for the great grace, that I was able to find the Lord through Kwasizabantu.