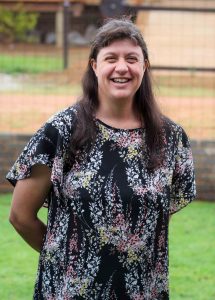 Joleen:
I grew up in a Christian home, and my first visit to Kwasizabantu Mission, I'm told, was at two weeks old.  I had decided from a young age to serve Christ. I was in a main stream public school up to Grade 8. Very early on I decided never to have a boyfriend. It wasn't always easy to stand on my beliefs especially since I had non-believer friends who couldn't understand my values.
At the end of Grade 8 my dad sat me down and asked if I really wanted to be Christian for the rest of my life. I said yes. He then said that he found space for me at the Christian Private school (Domino Servite School) on Kwasizabantu Mission and the best way to go deeper with my relationship with God was there. I agreed. I was never forced to go to school there. It was my choice to take the opportunity that I was given. I stayed in the school's hostel and even though I was the only Afrikaans girl in my dorm room that sleeps 4, I never experienced any racism there. I became a Prefect and graduated in 1997. Then I completed my bachelor's in teaching.
On the Mission, I really met Christ on a very personal level and He truly became my best Friend. I also decided that I wanted God to give me a husband, and not to go looking for one. I fully committed my life to Him, and decided to do whatever He wanted and go wherever He sent me. Whether it was in His plans for me to get married or not, or work as a missionary in Africa, I am willing. I also decided to remain a virgin until I got married. I am 41 years old now and by His grace, I have stood by my commitments. I now support and help my Dad, who pastors the Kwasizabantu branch at De Deur in the Vaal Triangle.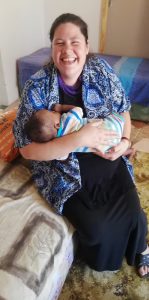 Annette:
I grew up in Vereening where I was born, and being 10 years younger than Joleen, I regularly visited Kwasizabantu Mission, attending almost every conference and especially youth conferences. I often visited since my sister completed her schooling there.
I felt God calling me in every church service, always convicting me of many sins. I would confess them, and still not get victory but always return to sin like a dog to its vomit. But God never stopped tugging on my heart and I just thank Him for my dad and many of the other co-workers who were a large part of my life especially uncle John Powers, Aunty Susan Engelbrecht and uncle Craig Engelbrecht.
I finished my schooling and bachelor's degree in teaching, through home schooling, and God blessed me despite not having yet made a full commitment to Him. I started to grow spiritually and through counselling and confession of sin to God, with a righteous child of God as my witness, I started living a victorious life.
After my studies I went to New York as an Aupair and my eyes were opened to the preciousness of this Revival which I had taken for granted, because it was such an integral part of my life since birth. When I was in New York, despite being with very precious sisters and brothers in Christ, nothing compared to the Revival among the Zulus which was part of my whole being since I could remember. The spiritual food I received was nothing like that which I was used to receiving through KSB. My highlight every week was to be able to wake up early and watch the KSB services live on Sundays. The most difficult part was attending beloved family friend and spiritual father Uncle John Powers' funeral online.
I have since committed every part of my life to the Lord and have lived a victorious life by God's wonderful grace, and I was privileged to be baptized in 2017. This was the most impactful event for me and gave me even more motivation to serve my Lord Jesus. I'm one of the few young women in South Africa, who, like my sister Joleen, have chosen at a young age that I wanted to remain pure. That I didn't want to become sexually active from the age of 14 or younger like almost every other girl in South Africa. I have never once regretted remaining completely sexually pure and respecting my body as a temple of the Holy Spirit. I have committed my future into God's hands by choosing to pour my life into serving Him.
I currently serve God by saving the lives of unborn babies and their mothers, counselling women who suffer severe post traumatic stress syndrome due to having had abortions and/or abuse. I'm in the thick of battle for ending women and child abuse in South Africa. To date I have counselled around 150 women, especially in my area and have been able to save the lives of their babies through counsel and physically assisting with food, baby essentials, referring to the correct welfare associations or for medical assistance. I am a mother to them, loving them in their worst moments (many of these young women don't have family assistance or parents), teaching them how to be a mom, and most importantly directing them to Christ at every opportunity.
This wouldn't be possible without the prayers and loving devotion of my parents, family, and members of our Kwasizabantu congregation. My dad has been a co-worker of the Mission since I could remember. Both my paternal grandparents found Jesus Christ through the Revival of Kwasizabantu Mission before their death and so did my maternal grandmother. I have the hope of spending eternity with them because of this.
My entire family has been blessed by the obedience of Reverend Erlo Stegen to God's calling on his life and the fire of revival at work, not only widespread throughout South Africa but also in the rest of the world.