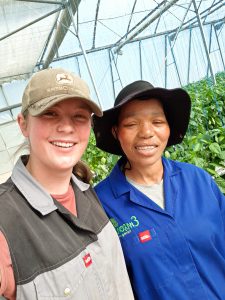 Dr James Emman Kwegyir Aggrey once said, "Black keys of the piano give good sounds and the white keys give good sounds, but the combination of the two gives the best melody."
Thanks to being born and raised on the Mission, it was there that I learnt to embrace different cultures, especially the Zulu culture. Having a father that interacted daily with the Zulu people and fluently speaking their language, it was through his example that I learnt to love the Zulu people. It is always such a joy to see a Baba, Mama or an Anti and be able to greet them, love them, honour them and interact with them in Zulu. But it was not only the people I got to cherish; I learnt to eat their food as well. From Usu to Walky-talky (chicken feet and heads), from Imfino with puthu to dombolo or jeqe.
Farming has always been a passion for me. Being 4th generation in the farming industry, farming was often the topic at the dinner table. As a little girl I would enjoy the outdoors, planting my own veggies and watching them grow, and I loved the excitement of harvesting my first green beans or my first spinach. So, after my schooling I joined Emseni Farming as an employee.
Since the first day I walked into the greenhouses I've enjoyed every minute of it. But something that makes the work so special is my fellow employees – working side-by-side, pruning away, walking the rows, and discussing the plants. However, I didn't just get to know them as fellow employees, but I got to know them personally; their characteristics, their habits, I learned about their families, their lifestyles at home. And I soon realised just how special each one of them is, how gifted God made them and how much I need them, as fellow employees, as friends. I wouldn't have all my knowledge of my work if it weren't for the Zulu ladies I work with daily. I learn daily from them and they help me where I lack knowledge. They have become my friends, my mentors.
It is through the work of the Revival, through Rev Erlo Stegen's example and my own father and uncles learning from Rev Stegen, that I learnt just how special the Zulu nation is and for that I am eternally thankful.
Rita Joosten