I will never forget what the Lord took me out of and what He has done for me.
He made me to love Him and to desire Him.
My name is Areta Petric, née Char, and I am the youngest of four girls. My first memory of my life is when I fell from a sycamore tree at the age of 5. Just prior to this I had been arguing with my sister. Arguing was a common practice in our house. My father was an alcoholic and sometimes he would beat my mom. However, we were still close to each other as a family and we loved each other. We knew our father would give his life for us at anytime, and my mom was always patient with a love that was long-suffering, as we read in 1 Corinthians 13.
When I was small, I attended the orthodox church. I used to read the Bible when the people were waiting in line to partake of the communion. This touched people and they would tell my mom about it.
As I grew older, I led many into temptation. I used to put on excessive make up, and I had a piercing in my one eyebrow. I loved to dance. I also watched pornographic movies. In the Junior Prom, I was chosen as "Miss Popularity". But I was so unhappy.
I then attended the children's camp at KSB mission. When I first heard the Word, I fell in love with it. I had never heard the Word preached so clearly, so directly and so understandable. Even a child could understand it. The young people in the choir had clear faces, clean eyes!  I had never seen such young people before. Christ was in them!
At this point I desired Jesus more than anything. The Lord saw my cry and He had mercy on me. That evening I saw my whole life rolling out before me like a movie. On the wall of the big room where I was accommodated, it seemed like it was written: "He can, He can, I know He can, I know He can take me to Heaven!
I started to confess my sins and make restitution. And He made everything new. I am forever grateful to Him!
After finishing my university studies, I came to the mission to volunteer for a year.
I have received from God a "noble" husband and two little boys. I married like Mary and Joseph in the Bible did. I held my husband's hand for the first time in front of the altar. This is the most beautiful and the highest way, which I found here at the mission.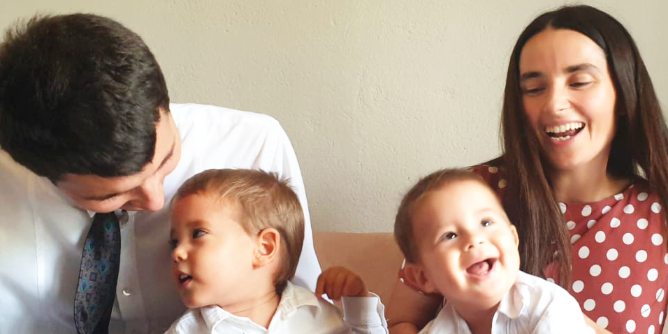 The Lord has given me grace to visit Kwasizabantu Mission in South Africa twice. The Lord is there! I was treated in the best way, in a heavenly way. On my second visit, I took all my sisters along. The Lord touched my eldest sister and she was freed from a smoking addiction.
Uncle Erlo is like a father. He would ask us, "Do you lack anything? Do you have enough blankets? Come over for a meal!" He once took us by airplane to Maqhogo and we ate fruits from the same plate. Such simplicity, such humbleness!
The Lord is seen so beautifully in His servants. I praise Him and I love Him forever!
Thank you! Thank you!