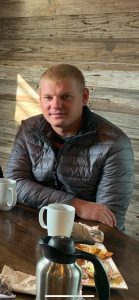 Hello, my name is Max Celick and I live in Tulsa Oklahoma USA.
I am truly grateful to the Lord that I was able to meet with Mission Kwasizabantu and the Gospel that is practiced there. I was on my way to a burning hell with no hope. One day the Lord spoke directly to my heart, "what do you live for and what is the purpose of your life?" While driving in my vehicle, I made the decision to follow Christ! As I was still driving, I opened the window of my vehicle and threw away my packet of cigarettes and my iPod that was full of evil music! My whole life began to change from that same day, the Lord set me free from drinking, smoking, pornography, and swearing all starting from that day! The Lord saved me and directed me to go to Mission Kwasizabantu for spiritual growth.
I visit Mission Kwasizabantu regularly, 1-2 times a year! Each time I visit Mission Kwasizabantu, I feel uplifted and encouraged! I am truly grateful to the Lord that Mission Kwasizabantu has opened its doors to me on a regular basis! I don't know where I would be if it wasn't for Mission Kwasizabantu, perhaps dead or in big problems!
I trust the Lord will provide more and more opportunities for me to go to mission Kwasizabantu to receive encouragement and spiritual grown with our Lord Jesus Christ!