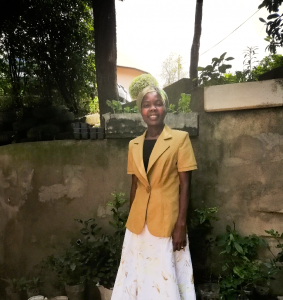 I met with the Gospel of kwaSizabantu Mission through their branch at Mtunzini. I can recall how they would always bring us to the youth conference twice a year.
I'm so thankful for what they did, it wasn't just an outing but it helped me to know the Lord deeper.
I cannot forget one day the preaching of his servant Rev E. Stegen, speaking of a man who went to the dentist for a tooth extraction. After sometime pains still troubled him to such an extent that he needed to go back to the dentist, then they found out that there was a small piece left inside. After that piece was pulled out he was relieved.
That had such an impact in my life, to realize if I don't pull out every sin. My Christian journey will not reach the destination. At my home place (Esikhawini) where I come from life is moving fast especially on teenage pregnancy, drugs and fashion. I don't think I would be this far if It wasn't of this Gospel of KSB Mission.
It taught me that a young person can live pure until marriage. If you can imagine nowadays how young people had cause heartache & headache to their parents. Young girls owe them that joy & privilege of taking them down the aisle by taking shortcut in life.
Later it was such an honour for me to join Grade 10 at Domino Servite School in 2003. I cannot forget my first lesson in a computer class, how my hand was shaking as I was about to touch keyboard for the first time. Which was also the very first time In my life to be in front of the computer. And how the teacher patiently help me to place my hands on the right keys.
After my matric, I then start helping in the Mission work. Still happily with them even today. I'm so thankful because I have learnt a lot all these years.
I live at the mission with my husband and 3 children. There is so much which the mission does for us, for example I don't know how much a loaf of bread costs at the moment because I get it free of charge every day.
What a joy to be at this place ! ! !
Babongile Nu Khomo