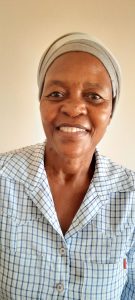 My naam is Lydia Magase en ek woon in Smithfield. Ek dank die Here vir wat Hy vir my gedoen het deur die evangelie wat ek by Kwasizabantu gehoor het.
Ek was 'n verlore sondaar. Deur Kwasizabantu het ek tot bekering gekom. Ek het geleer om die Here te vrees en om Hom alleen te dien. Ek het ook geleer om nie met sonde in my lewe te speel nie. Ek het my sonde bely en het besef dat ek dit nie weer moet doen nie. Ook nie terug gaan na my ou sondige lewe nie.
Ek dank die Here dat Hy Oom Erlo Stegen gebruik het en dat ek ook die evangelie deur hom kon hoor. So het ek hulp gekry en vandag is ek vry van my sondelas. Ek begeer om vir die Here alleen te lewe en my lewe skoon te hou.
My name is Lydia Magase and I live in Smithfield. I thank the Lord for what He has done for me through the gospel I heard at Kwasizabantu.
I was a lost sinner. Through Kwasizabantu I was converted, I learned to fear the Lord and to serve Him alone. I confessed my sin and realised that I should not go back to my old sinful life.
I thank the Lord that He used Oom Erlo Stegen and that I could also hear the gospel through him. So I got help and today I am free from my burden of sin. I desire to live for the Lord alone and keep my life clean.