Ich heiße Nina Gideon und komme ursprünglich aus Russland. Seit 23 Jahren lebe ich in Deutschland.
Bereits in Russland habe ich Botschaften aus der Erweckung in Südafrika gehört. Ich erinnere mich, wie ich von der Reinheit vor der Ehe gehört habe. Ich war vom Gehörten so angetan und angesprochen, dass ich auch so leben wollte. Die Botschaften aus der Erweckung waren und sind für mich bis heute wie FRISCHES WASSER.
Eines Tages war ich so von meinem Gewissen angeklagt, dass ich das Verlangen hatte meine Sünden ans Licht zu bringen. Ich stand vom Bett auf, denn es war bereits Abend, und da ich keinen Seelsorger in der Nähe hatte, schrieb ich einen Brief an eine Seelsorgerin, in dem ich meine Sünden eine nach der anderen auflistete. Als ich mit dem Brief fertig war, erfuhr ich etwas Wunderbares. Gott nahm von mir diese ganze Last, die mich geplagt hat, weg. Diese Riesenlast war weg, ich war frei. Was für eine Seligkeit von den Sünden frei zu sein! Das kann nur derjenige bezeugen, der es selbst erlebt hatte!!!
Als Gott mir in Seiner Gnade geschenkt hatte, dass ich nach KwaSizabantu nach Südafrika kommen dufte, erfuhr ich auch dort, wie Gott sich durch die Mitarbeiter der Mission um mich kümmerte. Ich durfte schon mehrere Male auf der Missionsstation sein. Nie musste ich dort für den Aufenthalt etwas bezahlen und wurde mit meinen Sorgen und Problemen immer ernst genommen. Es wurde nicht auf die lange Bank geschoben. Den Mitarbeitern war es wichtig mir zu helfen.
Eines Tages, das war mein Abflugtag von Südafrika und ich mich in einer sehr großen Not befand, kam Rev. Erlo Stegen zu mir und sprach mit mir, denn er erfuhr, dass ich ein Gespräch mit ihm suchte. Er nahm sich Zeit für mich und hörte mich an. Er erkannte sofort mein Problem und konnte mir mit dem göttlichen Rat helfen.
Es ist für mich bis heute ein wunderbares Erlebnis, wenn ich mit den Mitarbeitern der Mission sprechen kann und sie für mich beten. Ich erlebe, wie Gott ihnen die Weisheit und Vollmacht gibt. Ich komme in die Seelsorge und lade meine Sorgen, Schwierigkeiten, Fehler und Sünden am Kreuz ab. Die Mitarbeiter hören sich das an und handeln in solch einer Weise, dass ich ermutigt, gestärkt, gehoben und erleichtert von ihnen nach ihrem Gebet gehe. Gott wirkt durch sie. Das kann kein Mensch machen. Gott ist auf ihrer Seite, weil sie selbst heilig leben wollen und keinen Raum für die Sünde in ihrem Leben geben. Deshalb können sie für einen beten und die Sünde verliert ihre Macht. Ich merke, wie Gott mir durch ihr Gebet die Kraft gibt der Sünde zu widerstehen und ihr nicht sofort zu erliegen.
Ich danke Gott und allen Mitarbeitern der Mission KwaSizabantu Südafrika für ihr Leben und Vorbild. Danke, dass ihr mich zum heiligen Wandel mit Gott anspornt, dass ihr es selbst vorlebt und es ist eine Ehre euch nachzuahmen. Möge Gott euch für Euren Dienst für Ihn überreichlich segnen! Macht weiter so!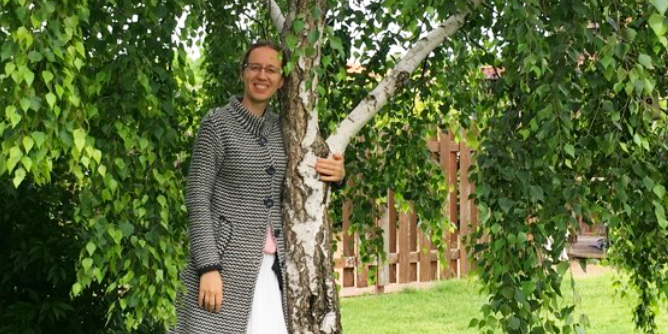 I am Nina Gideon and I am originally from Russia. I have been living in Germany for 23 years.
In Russia I heard sermons from the revival in South Africa. I remember hearing about purity before marriage. I was so impressed and attracted by what I heard that I wanted to live that way too. The sermons from the Revival were and are like FRESH WATER for me to this day.
One day I was so conscience stricken that I wanted to bring my sins to light. I got out of bed because it was evening already and I wrote a letter to a pastor listing my sins one by one. When I had finished the letter, I experienced something wonderful. God took my burden away. This huge burden was gone, I was free. What bliss to be free from sin! Only those who have experienced it can testify to this!!!
When I visit KwaSizabantu in South Africa, I experienced God's care for me through the co-workers of the mission. I have never had to pay anything to stay there and my worries and problems are always taken seriously. They are not placed on the back burner.
On one day of my departure from South Africa I was in great need. Rev. Erlo Stegen  took time and listened to me. He immediately recognised my problem and was able to help me with godly advice.
To this day, it is wonderful for me to speak to the co-workers of the mission and they pray for me. I experience how God gives them wisdom and authority. I can come and offload my worries, difficulties, mistakes and sins at the cross. I notice how God gives me the strength, through their prayers, to resist sin and not to just give in to it.
I thank God and all the co-workers at KwaSizabantu in South Africa for their lives and examples. Thank you for spurring me on to a holy walk with God, for setting an example yourself. May God bless you abundantly for your service to Him! May you continue in this way!