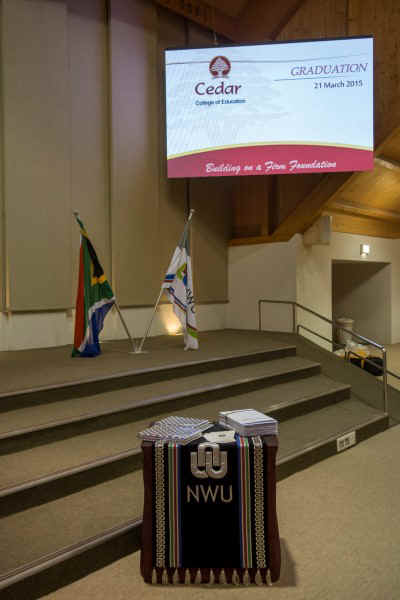 CCE is linked to North-West University and once a year those who achieved that B.Ed degrees the previous year, come back to Kwasizabantu Mission for the official graduation.
Since the students do the North-West University's curriculum they are also issued degrees by the appropriate officials from NWU. Officials were: Prof Robert Balfour (Acting Rector), Prof Barend Richter (Acting Campus Registrar), Dr Herman J van Vuuren (Acting Dean) and Prof Aubrey Golightly (Head of the division of Professional development of the faculty of Education), and Miss Daleen Gey Van Pittius.
Rev Erlo Stegen (Founder and Director of Kwasizabantu Mission and Recipient of the NWU Chancellor's Award), opened the 7pm proceeding with a devotion from Mat 12:43-45:
(43) "When the unclean spirit has gone out of a person, it passes through waterless places seeking rest, but finds none.
(44) Then it says, 'I will return to my house from which I came.' And when it comes, it finds the house empty, swept, and put in order.
(45) Then it goes and brings with it seven other spirits more evil than itself, and they enter and dwell there, and the last state of that person is worse than the first. So also will it be with this evil generation."
Rev Stegen highlighted the importance of filling the cleaned house with the Triune God. If it is clean but empty the devil will fetch worse friends and the last state is worse than the first. He used and example of two intellectual giants, Wernher von Braun and Joseph Stalin. Both were brilliant academics with a Christian background but their end was completely different. One advanced rocket science and freely testified of his faith in Christ. The other turned away from God and was responsible for the deaths of millions of Soviet citizens. His death was a terrible thing as his daughter, Svetlana, reported. Rev Stegen challenged the students to not just "clean" their houses but make sure that Christ fills it.
Prof Robert Balfour (who as Dean of the Education Faculty at NWU) was the Acting Rector for the graduation, gave an excellent talk on the state of education in South Africa and the need for equipped educators. (more to come when the text becomes available) Read in CV here.
As you will see in the photos below, families of the graduates were very expressive in their joy of witnessing the sons and daughters receive their B.Ed degrees. There was much African ululation.