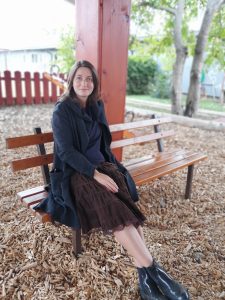 Mein Name ist Ruth Germer, ich komme aus Deutschland und kannte Onkel Erlo Anfangs erstmal von den Freizeiten in Europa. Mir waren seine Predigten immer sehr speziell, es ging eine Kraft davon aus, das ich nicht so, wie ich in den Gottesdienst reinkam mit meinen Sünden, wieder rausgehen konnte. Er war immer sehr direkt in seinen Predigten und nahm kein Blatt vor den Mund, ob es ihn unbeliebt oder beliebt machte. Er redete nur von dem, was Gott ihm sagte, um so viele Menschen wie möglich mit Gottes frohen Botschaft zu erreichen.
2007 kam ich das erste mal auf die Missionsstation für ein soziales Jahr. Ich kannte Gott noch nicht, obwohl ich selbst christlich aufgewachsen bin und in eine Gemeinde ging und auch verschiedene andere Gemeinden besucht habe. Ich kannte die Predigten, habe die Bibel oft gelesen und hatte auch Wissen, aber das Leben mit Gott und das Überwinderleben kannte ich nicht. Als ich das erste mal in Südafrika auf der Missionsstation ankam, spürte ich das es ein heiliger Ort ist und fühlte mich auch zugleich nicht wohl mit meinen Sünden in meinem Herzen. Als ich dann  einige Zeit später wieder auf die Missionsstation kam, für Hilfe, so wie es der Name "KwaSizabantu" schon sagt, ist mir auch sehr schnell diese Demut, Liebe und Freude besonders auch in schwierigen Situationen aufgefallen, mit der sie Gott aus freiem Herzen und ganz hingegeben dienen. Dies hat mich so angesprochen, das ich mir sagte, dieses Leben muss ich um jeden Preis haben, denn das ist es was mit der Bibel übereinstimmt.
Und ich bekam diese Hilfe in meinem geistlichen Leben und auch heute noch. Ich kannte es davor auch nicht, das man Befreiung von Sünde erleben kann. Mich haben nicht zuallerallererst die Worte, sondern ihr Leben angesprochen. Ich wusste auch nichts mehr zu sagen, als ich dann sah, wie in allen Bereichen, Gott an Onkel Erlo's Seite stand/steht. Wenn ich auch für Gebet zu Onkel Erlo ging, traf das ein, wofür er betete und ich durfte Befreiung von den Sünden erleben. Ich konnte dann nicht einfach weiter machen wie zuvor. Ich erkannte dann plötzlich was Gottes Liebe wirklich bedeutet, die Gnade, das er mir mein Herz und sein Herz zeigt und Befreiung schenkt.
Ein weitere Punkt, der mir eine große Hilfe war und ist, ist das mir nie gesagt wurde wie ich etwas tun muss, sondern das ich selbst Gott fragen solle, somit wurde ich immer nur auf den Herrn Jesus hingewiesen, um eine persönliche Beziehung zu ihm zu bekommen und allein abhängig von Gott zu werden. Ich bin Gott dankbar das er mir jetzt vor noch nicht so langer Zeit, die Türen nach Rumänien auf die Missionsstation KSB Voiteg geöffnet hat, um in seinem Werk mit zu helfen und bin dankbar zu sehen, wie er auch hier weiter am Wirken ist.
Ruth Germer
Rumänien
My name is Ruth Germer, I come from Germany and got to know Uncle Erlo through the conferences held in Europe. For me, his sermons were always very special, there was a power radiating from them so that I could not leave unchanged. I came in with my sin but could not go out the same. He was always very plain and direct in his preaching, not being troubled whether his message made him popular or not. He only spoke of that, which God had told him, to reach as many people as possible with the good news of the gospel.
In 2007, I came to the mission for a social year. I did not know God, although I grew up in a Christian family and attended church, and have even visited different congregations. I knew the sermons, I often read the Bible and had the knowledge, but I did not know a life with God or what it meant to overcome. When I arrived at the mission for the first time, I realized that this is a holy place and my sin made me feel very uncomfortable. When I returned later to receive help, just as the name KwaSizabantu expresses, I soon noticed the humility, love and joy of the people there, especially also in difficult situations, and how they served God out of a free and fully devoted heart. This spoke to me so clearly that I told myself, I need to have this life, no matter the cost, because this is what we read about in the Bible.
I received this help in my spiritual life, even till today. I did not know before that one could experience freedom of sin. It was not their words that spoke to me in the first place, it was their lives. I also could not argue when I saw how in every aspect and situation, God stood and still stands with Uncle Erlo. When I went to Uncle Erlo for prayer, his prayers were always fulfilled and through that I could experience deliverance from sin. I just could not carry on living like before. I suddenly realized what God's love really meant, and His grace, that He reveals to me my own heart, and His, and then gives deliverance.
Another point that was of great help to me, is that I was never told what to do or how to do something, I was always told to ask God, and so I was always directed to the Lord Jesus, and to pursue a personal relationship with Him and be only dependent on God. I thank the Lord that not long ago, He opened the doors for me to go to Romania, to a KwaSizabantu Mission branch in Voiteg, so that I can be part of and help in His work. I am grateful to see that God is also at work here.