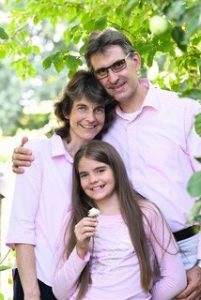 Was bedeutet die Mission Kwa Sizabantu für mich?
KwaSizabantu ist nicht nur eine Mission – dieser Ort ist mein Zuhause – ein Ort, an dem ich erfrischt werde, Gott persönlich zu mir spricht und ich praktisch sehe, was es heißt als Christ selbstlos zu leben und sein Leben für andere Menschen um Christi Willen hinzugeben. Es beeindruckt mich immer wieder neu zu sehen, mit welch einer Hingabe und Liebe den Menschen – egal welcher Rasse und Hautfarbe – gedient wird.
Ich weiß nicht, wo ich heute wäre ohne die Botschaft der Erweckung und die Ermutigung und Hilfe, die ich über die Jahre immer wieder an diesem Ort erhalten habe.
Als 16-jährige rebellische Teenagerin – von Abhängigkeiten und innerlich von vielen Sünden und Nöten geplagt, erreichte mich die Botschaft der Erweckung 1985. Ich hatte eine tiefe Begegnung mit Gott und er verwandelte mein Leben grundlegend. Ich erlebte die Vergebung meiner Sünden, die Befreiung von Süchten und eine Freude und einen Frieden, den ich noch nie zuvor erlebt hatte.
Seit über 35 Jahren kenne ich die Mission und die Stegenfamilie sehr persönlich und bin mit Erlo Stegens Kindern nun schon mehrere Jahrzehnte befreundet. Bei ihnen bin ich zu Hause und ich habe ihr Leben über die Jahrzehnte gesehen und wie ihre Eltern Kay und Erlo Stegen lieben auch sie Jesus und leben für ihn, um Menschen die frohe Botschaft des Evangeliums zu bringen.
2019 wohnten wir für mehrere Wochen bei ihnen im Haus. Zu der Zeit waren viele Kinder mit uns zusammen im Haus. Der Friede und die Freude, der in diesem Haus herrschte, war für uns so beeindruckend. Wir haben uns so wohl gefühlt.
Es hat mich so gefreut auch während dieser Zeit Lydia Dube kennenzulernen und die wunderbare Arbeit zu erleben, die sie unter den Drogenabhängigen und Verbrechern tätigt.
Wir als Familie haben sie sehr in unser Herz geschlossen und beten, dass Gott sie weiter segnet und gebraucht.
Wir sind überaus dankbar für diesen Ort, an dem Gott bis heute so wunderbar wirkt und an dem man immer willkommen ist. Wir freuen uns schon auf unseren nächsten Besuch.
Mit tiefer Dankbarkeit
Jannine Eichhofer und Familie
What is KwaSizabantu Mission to me?
KwaSizabantu is not just a mission – this place is my home – a place where I am refreshed, God speaks to me personally and I see in a practical way what it means to live selflessly as a Christian. I see how one gives one's life for other people, for Christ's sake. It impresses me again and again to see the dedication and love with which people – regardless of race and skin colour – are served.
I don't know where I would be today without the message of revival and the encouragement and help that I have received over and over again at this place over the years.
The message of the revival reached me in 1985 when I was a 16 year old rebellious teenager. I was burdened by addictions, many sins and troubles. I had a deep encounter with God and He fundamentally changed my life. I experienced the forgiveness of my sins, the deliverance from addictions and a joy and peace that I had never experienced before.
I have known the mission and the Stegen family personally for over 35 years and have been friends with Erlo Stegen's children for several decades. I feel at home when I am with them and I have seen their lives over the decades. Just like their parents, Kay and Erlo Stegen, they love Jesus and live for him to bring people the good news of the Gospel.
In 2019 we stayed in their house for several weeks. There were many children with us in the house at the time. The peace and joy that reigned in this house was so impressive. We had a wonderful time.
I was so happy to get to know Lydia Dube during this time and to experience the wonderful work she does among drug addicts and criminals.
We as a family have grown to love her and pray that God will continue to bless and use her.
We are extremely grateful for this place, where God still works so wonderfully today and where one is always welcome. We look forward to our next visit.
With deep gratitude
Jannine Eichhofer and family